VICTORIA KOVALENCHIKOVA has been awarded with the gold medal of "LORENZO IL MAGNIFICO" given by the VIII International Florence Biennale of Contemporary Art 2011.
READ MORE >>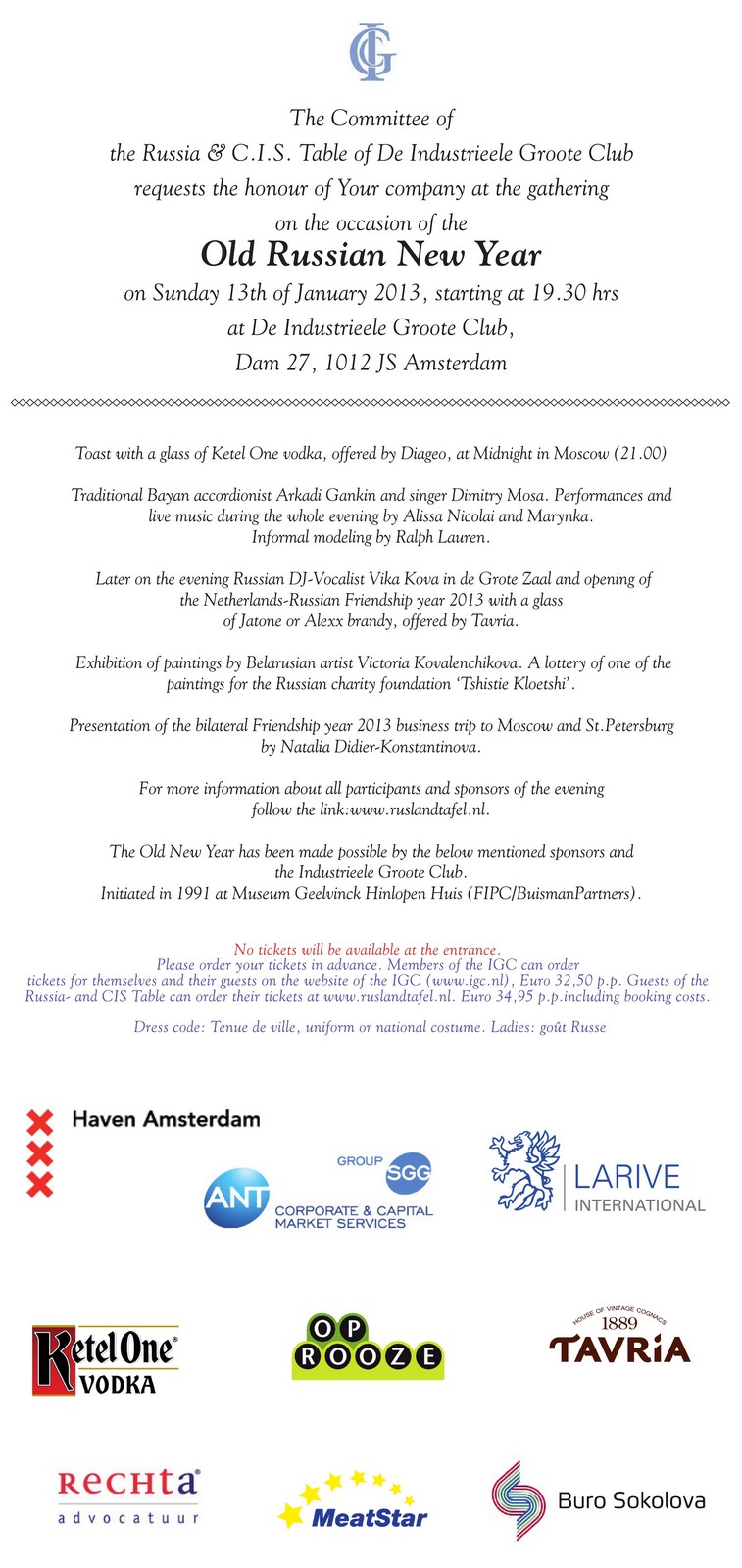 De Rusland & GOS Tafel is een informeel ontmoetingspunt voor iedereen met interesse in Rusland en het Europese deel van het GOS. De tafel richt zich op handel, industrie, haven en de financi?le sector, alsook op cultuur, wetenschap en sport. De bijeenkomsten beogen de uitwisseling van ervaringen en 'best practices' bij het zakendoen met Rusland.
READ MORE >>
Known as Miami's premier anchor fair, world-famous for its stylish gallery-like decor, its outstanding quality and extraordinary variety, Art Miami showcases the best in modern and contemporary art from more than 125 international art galleries.
READ MORE >>
The 19-acre site, at the corner of Okeechobee Boulevard and Florida Avenue, is opposite the popular Kravis Center for the Performing Arts and CityPlace, a new $600 million mixed-use complex with the finest shopping, restaurants, entertainment and residential space in downtown West Palm Beach.
READ MORE >>

A fun four-day event hosting a wealth of galleries and a huge array of contemporary art, the Affordable Art Fair Amsterdam will be taking place between the 25 – 28 October in the Cultuurpark Westergasfabriek.
READ MORE >>
The Affordable Art Fair returns to New York City this fall at a new venue in Chelsea – The Tunnel. Opening on Thursday night, October 4, the fair will run through the weekend and offer an exciting variety of programs, kids activities, special installations and more. Read on and start planning your visit!
READ MORE >>
Victoria Kovalenchikova is proud to announce that her paintings will be shown at Art South Hampton by WITZENHAUSEN GALLERY (Amsterdam - New York)
READ MORE >>
The vernissage will be on Saturday, July 14, 2012 at the prestigious Shanghai PuDong National Library in QianCheng Road 88 (across the JinXiu Road) - PuDong - Shanghai - China.
READ MORE >>
Victoria Kovalenchikova January 7 - March 31, 2012 RCC "Our Texas" I CaviArt Gallery 2337 Bissonnet Houston, TX 77005
READ MORE >>
© Victoria Kovalenchikova 2005-2013, All rights reserved